Apartment buildings and rental property
Wireless access control – maximize security
and efficiency in apartment buildings
Countless keys: a lot of tenants moving in and out, many property
inspectors as well as service personnel, and all of them need access.
In other words: a lot of trouble and insecurity not to mention a lot
of key fiddling.
At Access Technology, we offer you the ideal electronic access control
system that makes life easier for all parties involved: a minimal and
unobtrusive installation, with no wiring between main entrances or
inside the apartments. A keyless solution gives residents access to
their building through the use of an RFID key fob. In addition,
calls from the doorbell system can be received directly on their own
phone.
Residents can even let in visitors when away from home!.
Access Control
Access can be given only to those with valid reason, and only within a certain time. The system can be connected to an existing doorbell. Offline door locks for use on internal doors (laundry rooms, basements and other common doors within the building.
With a simple click within the cloud-based software, a "key" can easily be denied access to the building, making it more safe and secure for all tennants.
No fear of loss of keys
Avoid time consuming key handling
Remotely let in service personnel
All buildings can be centrally controlled
Online functionality at offline costs.
Minimize the time spent handling keys
Introvideo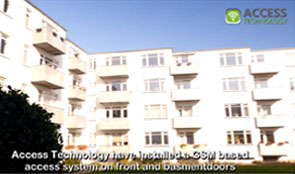 Watch the video about EasyAccess for apartment buildings and rental property.
Flexible access control