The easiest system in the world for perimeter security
Some companies have a need for different people to be able to access perimeter
and buildings 24 hours a day. Truck driver collecting goods for shipment,
suppliers, opeople working in the company or costumers. Normally, such a
requirement would entail a lot of administration: the compan would need to
keep track on who has been given access where to and for how long, and this
would trake up a lot of companies available ressources.
Using the solution for perimeter protection offfered by Access Technology,
however, eliminates the administrative hassle. The solution is a web,- cloud-,
and GSM-based online access control system (in the business often reffered to
as "web-based access control"). Administration is rendered more effeciently
and minimized through the web portal and its graphical user interface which
is very simple and easy to use. As a result, it is very easy for the system
administrator to get an overview of who has been given access, where to and
for how long along with granting other users the access that may be required.
The system incoorperates the highest possible level of security, and an ulimited
number of users may be added.
Keyless and connected to the GSM network, the solution requires to internet connection.
A gate may be opened by sending a text, using Mobilepay or making a call.
In other words: a GSM port opener.
For more information, including technical specifications, see our flyer on
"Easy Access – Cloud / GSM Online Access Control".
The solution is highly recommended for use with:
Gates

Bollards

Barriers

Doors
Easy administration
From the Cloud based software, every access point and user validation is controlled online, from everywhere in the world. Different groups of users can be given access with different "keys" i.e.: key fobs, pin codes, text messages or phone calls. Using the build-in calendar function, it is possible to differenciate individual access times. Whether or not an access point should remain open throughout a specified time period (e.g. normal opening hours) is controlled by a preset time schedule.
High security level
All data communication is encrypted and backed up automatically, resulting in a very high degree of security. Within the Cloud software, every entry in the system is logged. Thus, checking what user has entered or left a specific gate is always possible, which improves security.
Competitive installation costs
The fact that no cablling or wiring is required is required, makes the costs of the system very competitive compared to wired access control systems. For the installation of this sytem, mains power is all that is needed, which is normally available directly from e.g. the electric gate.
As a result, there will be no costs for subduction of cables.
Introvideo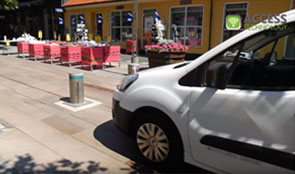 Watch the video about EasyAccess for
gates, bollards, barriers and doors.
Flexible and future-proof access system